If you're looking to give your dining room a makeover, one of the easiest and most cost-effective ways to do so is with a fresh coat of paint. Choosing the right colour for your dining room walls can be a daunting task, however. From warm neutrals to vibrant hues, there are plenty of options to choose from. To help you decide on the perfect colour for your space, we've compiled some helpful tips and inspiring ideas.
Dining Room Color Requirements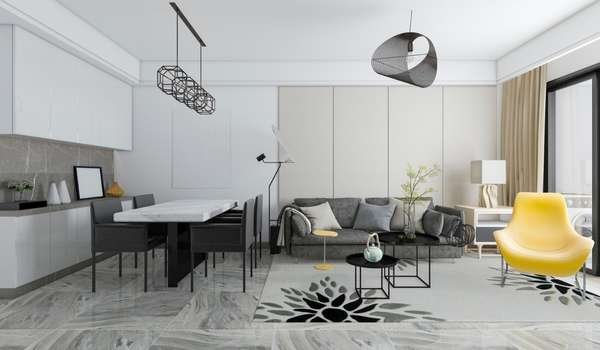 The dining room is one of the most important spaces in any home. It's where family and friends come together for meals, laughter, and memories to be made. With that said, choosing the right colour scheme for your dining space is essential in setting the mood and atmosphere. Here are some key requirements to keep in mind when picking out a colour palette for your dining space:
Balance is key – Think of a mixture of light and dark colours that complement each other while still creating a sense of harmony. Avoid using too many bold colours as this will be overwhelming on the eyes. Instead, opt for softer shades that won't dominate the space but still create an inviting atmosphere.
Furniture matters – The furniture you choose will significantly impact the colour palette you decide on for your dining space.
1. Stay contemporary with grey
The contemporary style of decorating is always popular, and grey is one of the trendiest shades to bring into your home. Bringing a warm, sophisticated feel to any room it's used in, grey can be used to create a modern take on traditional styles.
opt for muted greys as opposed to harsher hues that can make rooms look smaller or darker than they actually are. You can also use accent tones such as blush pink and soft blue against your grey backdrop for an extra touch of sophistication. Consider using statement pieces like modern light fixtures or bold artwork as focal points in the room – these will draw attention away from the walls and add personality to the space.
2. Follow drama with black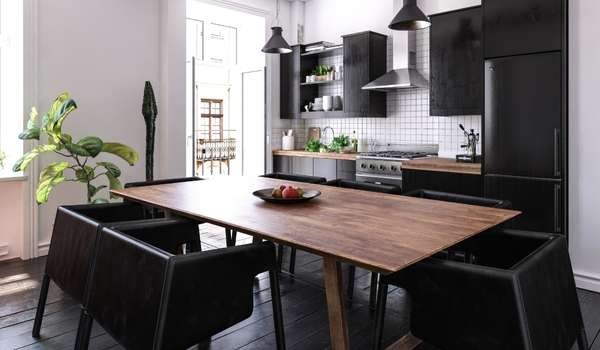 Black is the perfect colour for adding a bold, sophisticated and stylish look. Black can make a statement or simply tie an entire room together. With all of its versatility, black is an excellent choice for creating a dramatic scene in your home.
From furniture pieces, like chairs and tables, to wall decors such as mirrors or artwork, incorporating black into your dining room can provide an eye-catching and interesting atmosphere. You could even use accent pillows in shades of black to bring out the dark tones of the space. The possibilities are endless when it comes to using black as an accent colour for your dining area!
3. Make an unbiased choice when choosing simplicity
Choosing simplicity for a dining room can be surprisingly difficult. It is easy to get caught up in trends and lose sight of the goal – creating an environment that feels comfortable and inviting. Making an unbiased choice when it comes to picking out furniture, fixtures, and décor helps keep a space looking uncluttered and timeless.
No matter what style you're going for, focus on quality over quantity. Investing in fewer pieces of higher quality will help ensure your design remains classic even as time passes by; this look is often referred to as "timeless elegance" or "understated luxury." Aim for a balanced aesthetic that features both statement pieces and subdued accents; contrasting colours, textures, materials, shapes, sizes add visual interest without becoming overwhelming.
4. Purple Be creative
For a chic and stylish dining room, purple is the perfect colour to add a royal and luxurious touch. From daring lavenders to sophisticated violets, purple can be used in many different ways for an elegant aesthetic. With its unique combination of cool and warm tones, it's easy to create an inviting yet sophisticated atmosphere by using lavender on the walls or deep violet accessories. Whether painting entire walls or simply adding pops of colour with furniture and accents, this regal hue will breathe life into any space.
Tips for decorating with different colours
When it comes to decorating your dining room, experimenting with different colours can be a great way to create an inviting and stylish atmosphere. Here are some tips for using different shades of colour when designing your dining area:
1. The Red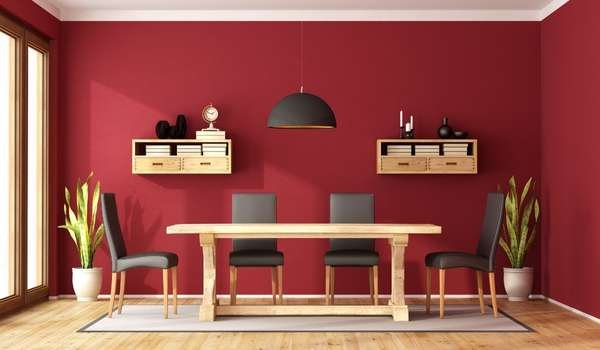 The Red dining room is a must-see spot in any home. This vibrant and inviting space is sure to add a splash of colour and life to the home, making it a space that you can't help but want to spend time in. Designers have long been inspired by the red tones for creating cosy yet sophisticated interiors. The boldness of this colour gives off a sense of energy, while its warmth creates an atmosphere that encourages conversation and interaction. When used on walls or furniture pieces, red can make your dining room feel like the centrepiece of your home. To ensure that the look remains cohesive, be sure to pair it with items like white tablecloths and wooden chairs for an effortless style statement.
2. Yellow
Yellow is a colour that brings a vibrant and cheery atmosphere to any room. If you're looking for an exciting way to transform your dining room, consider adding yellow accents! Utilising this bright hue can create a cheerful eating space with lots of character.
choose furniture pieces that showcase yellow tones in the fabric or paint. A deep mustard-coloured chair can be paired with light buttery-coloured cushions, while a white tablecloth can be complemented by placing mats in lemon or sunflower shades. Brighten up plain walls with yellow artwork and vases for added flair. Consider further lighting your space using warm-hued pendant lights or wall sconces for extra brightness and sophistication.
3. The green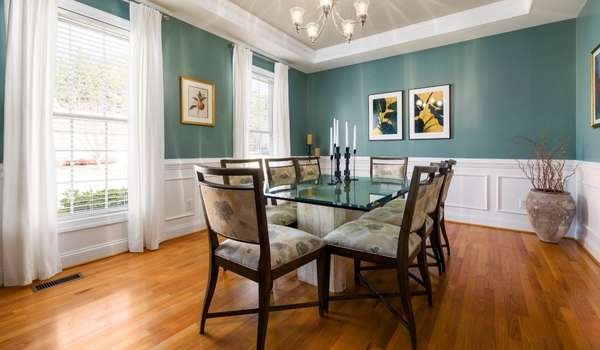 The Green is a luxurious and modern dining room that offers an exclusive experience. With its unique design, elegant atmosphere, and amazing cuisine, it's no surprise that The Green has become one of the most sought-after dining venues in town.
From the moment you step inside, you'll be transported to a world of sophistication and style. The contemporary decor features sleek green accents for a fresh and inviting look. Rich fabrics adorn the walls while crystal chandeliers hang from the ceilings to create an ambience of ultimate luxury. Plus, with the restaurant's expansive space filled with soft music playing overhead, it's easy to forget about your cares and revel in the beauty around you.
4. pink
One great way to add hints of pink is through furniture upholstery. A bright pink armchair can easily draw attention as an eye-catching piece, or choose more subtle shades like dusty rose or blush for a softer look. You could also opt for window treatments such as curtains or Roman shades in various shades of pink; this will allow sunlight to stream in while providing privacy from the outside world.
5. the blue
Blue is one of the most classic and timeless colours used in home décor, especially when it comes to dining room design. From walls and furniture to accessories and artwork, the possibilities are endless when it comes to decorating with this cool hue.
A great way to introduce blue into your dining area is by painting the walls in a muted shade of navy or sky blue. This simple step will instantly transform your space into an inviting retreat that's perfect for both everyday meals and special occasions. You could also consider introducing accent pieces such as chairs, rugs, curtains, or even table linens in vibrant blues for an extra pop of colour.
6. White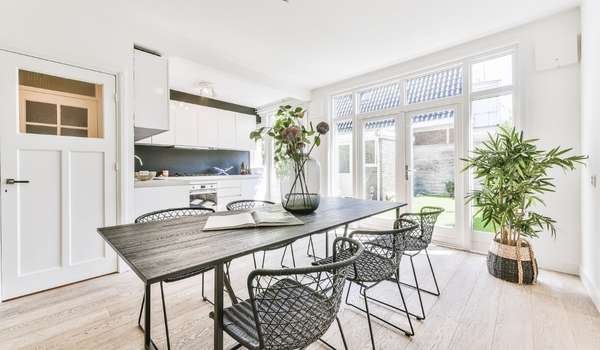 White is the perfect colour to bring a touch of luxury and sophistication into your home. Whether you are looking to create a modern oasis, or create an inviting atmosphere for guests, white can be used in various ways to enhance your dining area.
Start with the walls. White walls will provide the perfect backdrop for your artwork, furniture and accessories. With the right accents such as bold rugs or art pieces against crisp white walls, it will instantly transform your space into something special. Additionally, adding texture like wallpaper or panelling can add depth and dimension that adds visual interest and makes people feel comfortable in this type of environment.
7. brown
When it comes to design, there's something special about the colour brown. Its warm, earthy tones provide a calming atmosphere for any space, particularly in the dining room. Whether you're going for a rustic vibe or an elegant look, brown can be used in various ways to create the exact aesthetic you're after.
From furniture and walls to tablecloths and centrepieces, brown is a versatile hue that can be tailored to your personal style. To bring out its natural beauty, pair it with other muted shades like white and cream or opt for bright pops of colour like blues and greens. The possibilities are truly endless when it comes to decorating a dining space with this timeless hue!
8. the sky
The sky is a vast, beautiful expanse that can be appreciated from anywhere. It's easy to forget the wonders of the sky when we're stuck inside, but there are ways to bring its beauty into our homes. The dining room is an ideal place for integrating sky-inspired elements into your home decor.
Adding a celestial mural or wallpaper with clouds, stars and moons will instantly brighten up any dining room space. For a more subtle look, use light shades of blue or grey on walls or furniture pieces in order to mimic a cloudy day. If you want something bolder, try incorporating pops of bright colours like yellow and orange throughout your design scheme. No matter which approach you take, make sure to include plenty of lighting in the form of lamps and candles so that your guests can appreciate the beauty of the night sky while they dine.
9. Keep it bright
choose light-coloured paint for the walls to keep things bright in the space. A white or beige shade will create a neutral background for any décor you decide to add later on. For added brightness, try painting one wall in a bolder colour as an accent piece that will draw attention to the space.
Next, add some natural elements to open up the space and bring in some texture from plants or flowers. Incorporate wood pieces like shelves or furniture for warmth among all of the bright colours you have chosen for the room.
10. Keep warm and neutral
One way to keep your dining room warm and neutral is by choosing furniture in shades such as cream, taupe, beige or light grey. For example, adding a soft linen-covered sofa with a wooden table and coordinating chairs can help bring the space together while still providing an airy feel. To add depth and texture to the walls, opt for wallpapers in muted tones with subtle patterns like stripes or botanicals which will complement this look perfectly.
Dining room colour benefits
When it comes to interior design, the dining room is one of the most important rooms in a home. It is often used for entertaining guests and family gatherings, making it vital that the colour of this room be inviting and pleasing to all those who enter. The right colour choices can have numerous benefits when it comes to creating a comfortable atmosphere in your dining space, ranging from improved moods to enhanced well-being.
colour care
When it comes to your dining room color care is a must. It's always important to consider the impact of paint and furniture on the overall atmosphere of a space. With a little maintenance and forethought, you can keep your dining space looking vibrant and beautiful for years to come.
The most effective way to keep your colours vibrant is by regularly dusting and cleaning walls, furnishings, flooring, light fixtures and other surfaces in the area. Vacuuming carpets or rugs will also help remove any dirt that may be dulling their hues over time. To protect painted surfaces from water damage or fading colour, try using washable paints with UV-blocking technology or sealants designed specifically for interior wall surfaces. Additionally, choose window treatments with light filters built in if you want to reduce sun exposure that could fade fabrics over time.
Conclusion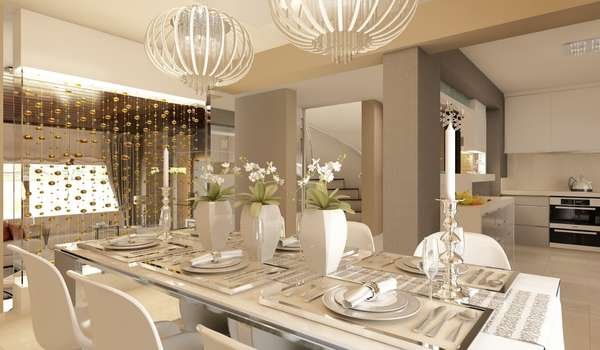 When it comes to dining room colour ideas, there are many options that can help you create a stunning and inviting space. Whether you choose a bolder colour like red or go for something more subtle like beige, the right choice of colours will make your dining space stand out. Consider the size of your room and how much natural light it receives when making your decision. The flooring, furniture, lighting and accessories should all be taken into consideration when selecting paint colours as well.